Last Updated on January 18, 2022
Facebook Business Manager is a tool which enables you to manage all of your businesses Facebook assets and resources together in one place. It allows you to link your Facebook and Instagram accounts, to generate and manage tracking pixels, to link your advertising account to your page and pixel and to share all of the Facebook details with colleagues and partners WITHOUT having to be friends with them on Facebook.
It's a good idea to have Facebook Business Manager set up as it enables to many linkages and interactions, helps to professionalize your Facebook activities and will allow multiple people across your organisation to work on your Facebook assets. It's a really good idea to have all the assets centrally managed and accessed by multiple people to avoid losing access to any of your resources. It really is very common for someone to set up a Facebook business page for you linked to their own personal profile, not add any other managers to the page and then leave the organisation without giving you the keys. Or to be running all of the advertising off a separate Ads account not linked to the central business Facebook account. If that person leaves the business without handing access to these assets over then management of the page or advertising can be lost. This happens more often that you might think and the risk is that the page and all of its followers and history can be lost to the business. We strongly recommend using Facebook Business Manager for all of these reasons. You may find it's already been set up for you – if you follow the steps below you will see how to get access or to get someone to add you in.
There are 2 interfaces now, Facebook will direct you to its latest version called Facebook Business Suite as its first choice. This is the same in functionality as Facebook Business Manager; does all of the same things but with a more modern dashboard. All of the screenshots below are using Facebook Business Suite. If you see something slightly different then it's likely that you are using the old Business Manager interface. It doesn't matter, the options will be the same but may have a different layout. Facebook is notoriously difficult to navigate and will tie you in knots. Don't stress about it! It's not uncommon to go round in loops while you find your way around the whole thing and it is possible to navigate your way through.
The Business Manager / Business Suite dashboard has to be accessed from a browser not via the mobile app so if you a looking at Facebook from the mobile app on your phone you won't see any of these menu options or be able to "get in" to the same pieces of information. Sit down at your PC and open Facebook in a browser.
Steps to add new managers via your Facebook Business Suite account
From your Facebook home page locate your Page down the left hand side under Pages.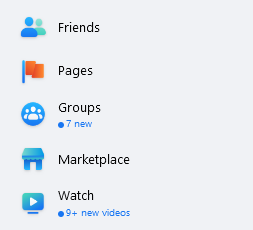 Open up your page and then review the menu on the left hand side called Manage Page. If you already have a Facebook Business Manager / Suite account linked to the page then this option will be lists on this menu with the "Business Suite" menu.

Click on the Business Suite main heading to open up a new window for Facebook Business Suite.

This opens a new window with lots of menu options. Don't panic! The Facebook Business Suite menu down the left hand side allows you to navigate and link up all of your Facebook Assets (Facebook Page, Instagram Page, Facebook Ads Account, Facebook Tracking Pixel etc etc) From the Facebook Business Suite menu, select Settings.

This will open up the Account Settings Page.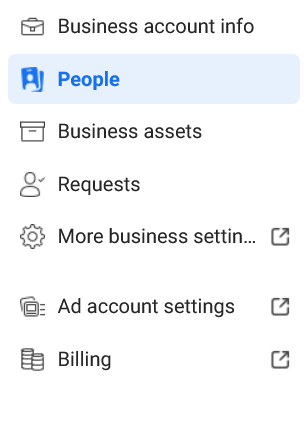 When the People item is highlighted you will get a page that show you who is already connected to the Account and what kind of access they have ( you will see more details than this – personal information has been removed here).

To add someone – don't use the search bar to type in the name – click the Add People button on the right hand side.

That opens up a 2 step addition process. Step 1 is to send them an invitation. You can use their work email address if they are an employee of your company. Choose the kids of access you want to give them (you can change this later) then click the next button.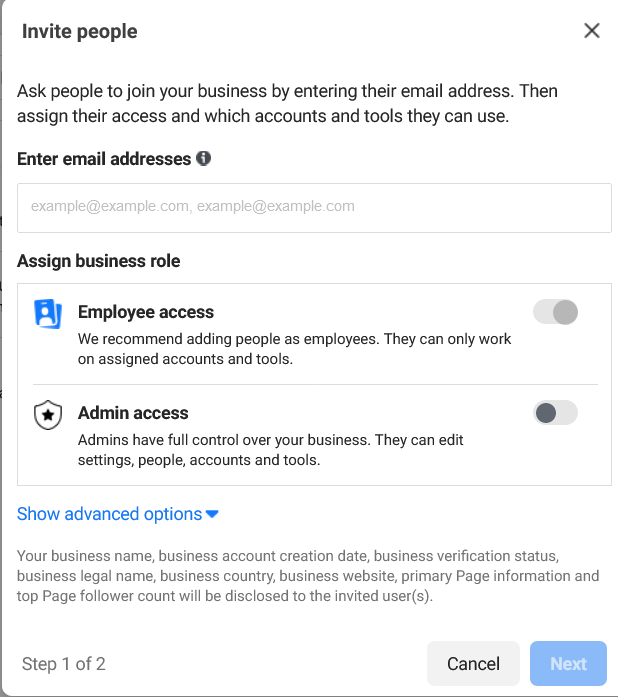 In Step 2 you select what kind of access you want to give this person to which Assets your account owns.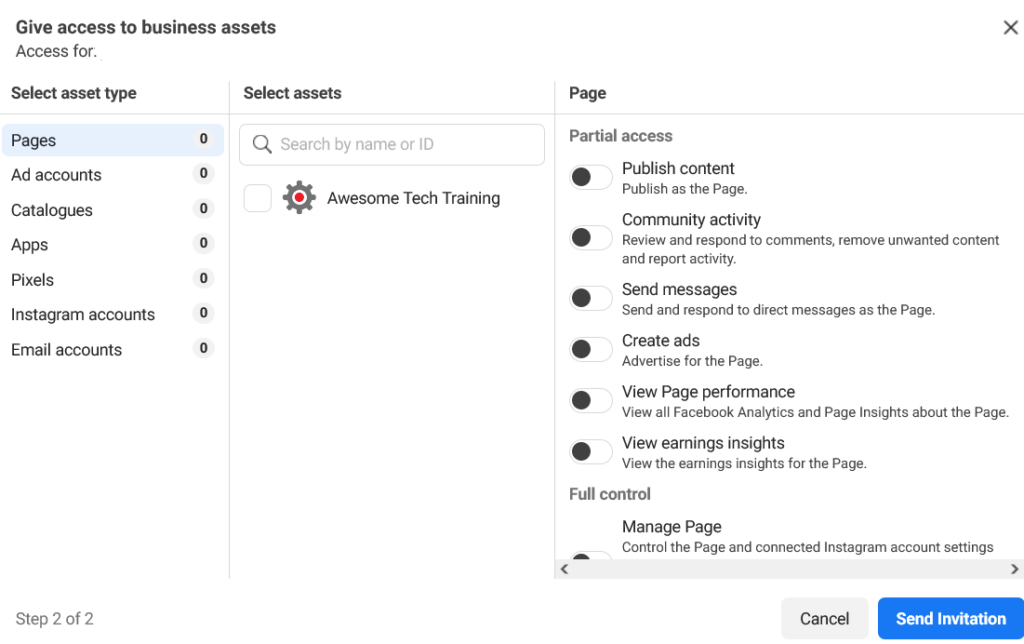 You select the business account in the middle by checking the tick box next to your account name / log. Then work down the list on the left selecting which assets you want to give this person access to.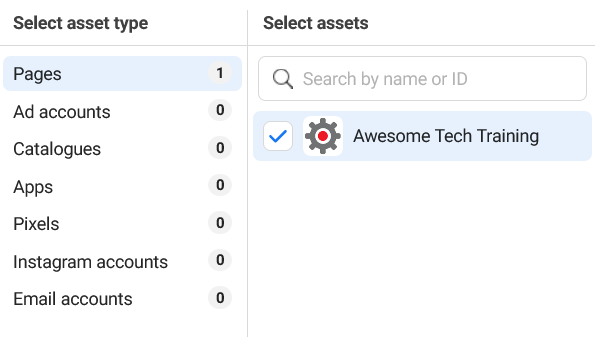 And for each Asset type – on the right select what kind of access you want to grant, so when the Pages asset on the left is highlighted, select your company asset in the middle with the checkbox and then use the toggles on the right hand side to set the access level. Don't hit send invitation yet, make sure you work through all the assets on the Select asset type list first and send the invitation for everything all at once.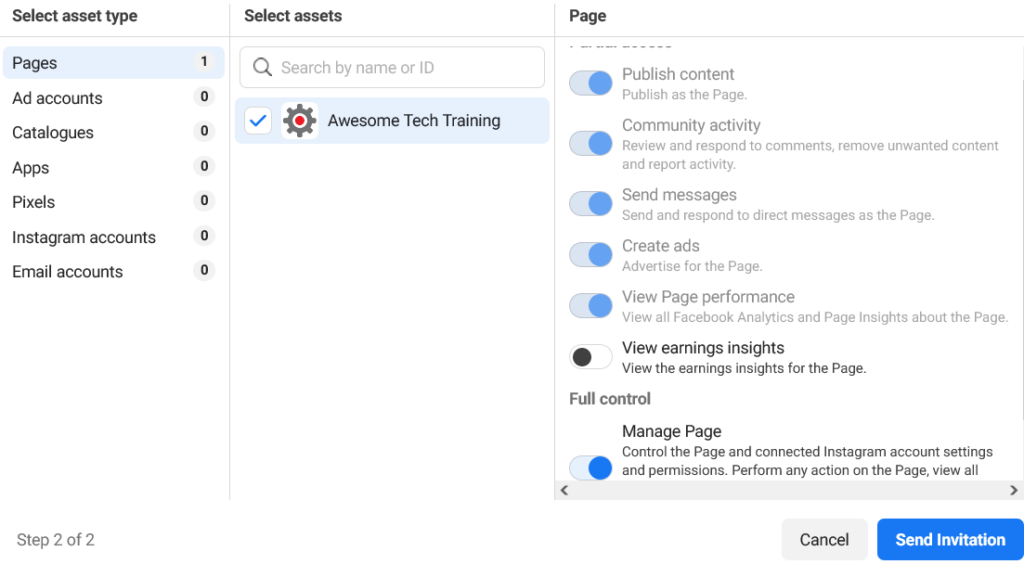 Then work down the list of assets; highlight Ad accounts next, check the tick box for your company Ad account in the middle then use the toggles on the right to set the appropriate access levels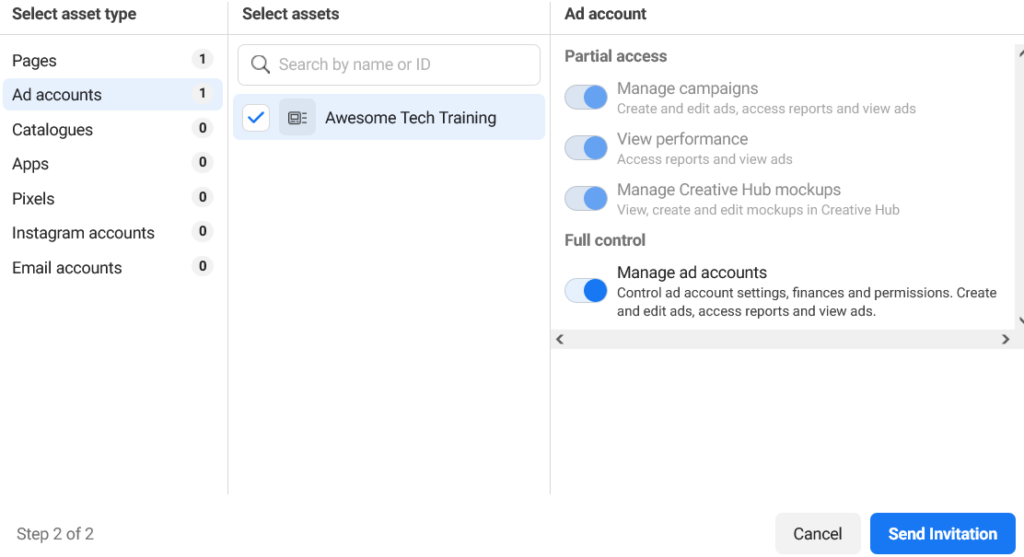 Continue this process working down the asset list until you have reviewed all of your Facebook assets. When you are happy that you have added each relevant asset and the right levels of access hit the Send Invitation button which will send an alert via Facebook and email which the person will need to accept in order to complete the process. If you go through the whole set now then you won't have to go back in and work through this again for another asset at a later date!