Introduction to WordPress

In this section we'll explain how this course works and take you through the process of installing WordPress and finding your way around its interface.

Adding content to your site

Here we'll learn about the different ways that WordPress categorises your content and take you through the process of setting up the first pages of your website.

Making your site look nice

We'll discuss how you can change the look and feel of your site using themes, then we'll install a new theme and explore some of the styling options it offers.

Structuring your site

It's important for your site to have a clear structure, so in this section we'll explore how to add a menu to your site as well as other ways you can help people to find the content they're interested in.

Adding functionality to your site

We'll explain how you can add functionality to your site using widgets and plugins and look in more depth at some of the styling options available in the Astra theme.

Adding more functionality

Each video in this section explores how to add a different kind of functionality to your site, focusing on some of the most common things that people want to be able to do.

Privacy and security

It's vital that you ensure your site is secure, so in this section we'll give you some advice on security and privacy within the context of WordPress.

Getting found on Google

A brief overview of some of the things to consider if you want to ensure that your site gets found on Google.

Next steps

What next? Here are some resources you might find useful if you want to develop your site further.
Installing WordPress
What is WordPress?
WordPress is a content management system (CMS) – essentially a way of enabling you to build a website and manage all the content (text, images, videos etc) that are contained within that website without having to be able to code yourself. Launched in 2003, WordPress is free and open source and consequently it's one of the most commonly used content management systems in the world. As of June 2019 it's estimated that 61% of all websites whose CMS is known are running WordPress.
This is one of the reasons why we recommend WordPress – the open source nature of it means that there are lots of developers working on it. It's easy to find people who know how WordPress works. The fact that it's free means that your content always belongs to you – you're not beholden to a corporation to provide the means of developing your website.
A basic WordPress installation has simple functionality that you could use to get a basic website or blog up and running but the real power of WordPress comes from the many thousands of themes and plugins that developers have put together that extend its functionality massively and offer pretty much unlimited design options. Essentially, whatever sort of site you want to run, whatever kind of functionality you need, there will be a WordPress plugin or theme that can help you to do it.
It's worth noting that there are two 'flavours' of WordPress: WordPress.com and WordPress.org. They are completely separate and it's important not to get them mixed up. WordPress.com is a website hosting service created by one of the co-founders of WordPress. It's often used by hobby bloggers but it's generally not suited for anyone else as there are some significant limitations.
You have much less control of your site if you're using WordPress.com than if you're using WordPress.org. For example, WordPress.com does not support the same range of plugins so you cannot significantly extend the functionality of your site. You cannot install Google Analytics on your site so you would not be able to track traffic to it, and you cannot run paid advertising campaigns on your site.
Additionally, you can't upload custom themes which can significantly limit your options in terms of the look of your site. Finally, your site can be deleted at any time if WordPress.com decided that it violated their terms of service for whatever reason. In short, we would not recommend that you use WordPress.com. This course shows you how to get started with WordPress.org.
Other CMSs are available – things like Weebly, Wix and Squarespace – we don't recommend using them either and we've written more about why that is here.
Installing WordPress
This video shows you how to install WordPress.
Most hosting companies offer a  'one click install' for WordPress which makes it very simple to set up. Once you have bought a domain and arranged hosting for your site then your hosting company will send you log in details that will give you access to a control panel. This is where you install WordPress. You're installing it on your hosting company's servers, not on your own machine – nothing is being downloaded onto your laptop or desktop at any point during this process.
When you log onto your hosting control panel you'll see something that looks like the screen grab below. If you scroll down you'll come to a section called 'one click installs'. In the example below there's only one logo in there – the WordPress logo – but when you do this via your own hosting company you might say many different logos. You can ignore them all – you're just looking for the WordPress logo. Very occasionally, you may find that your hosting company does not offer a one click WordPress install. If that's the case then you'll need to install WordPress manually – there are video instructions regarding how to do that here.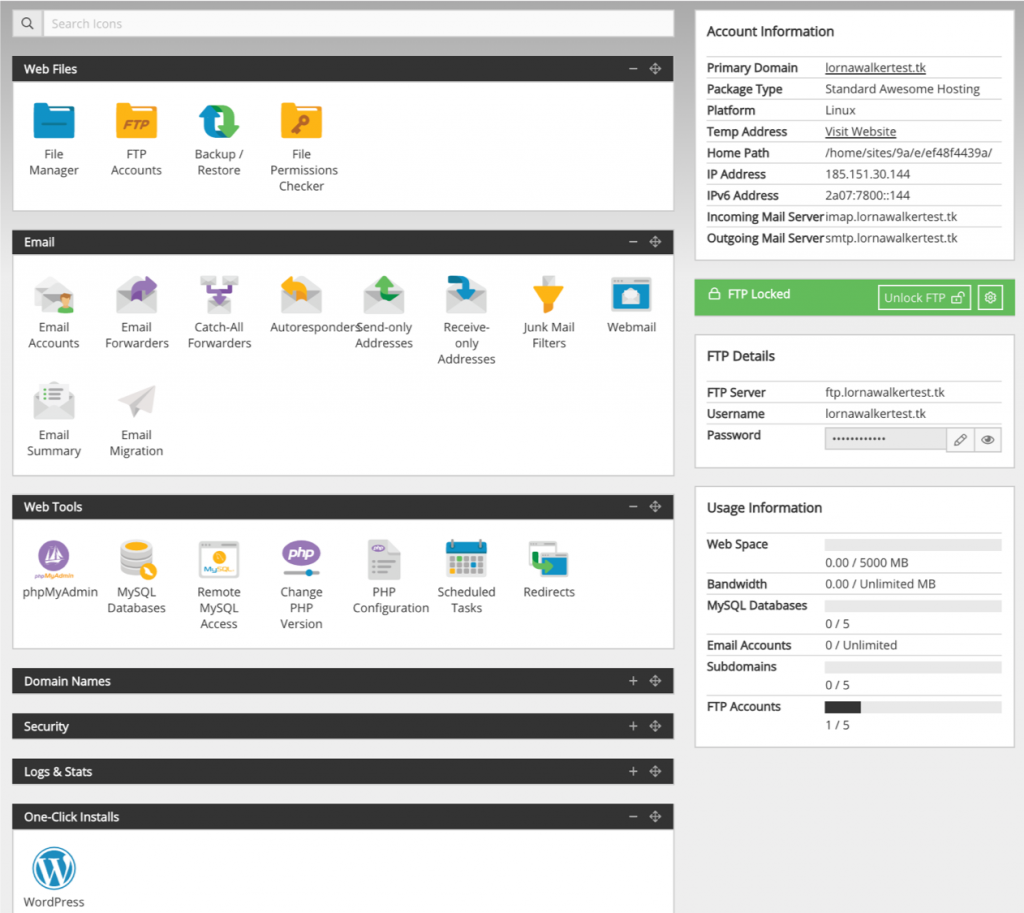 Click the 'WordPress' logo and you'll be taken to the next step of the process where WordPress asks you in which directory you'd like to install it. Don't make any changes on this screen – stick with the default option that it gives you, as per the example below.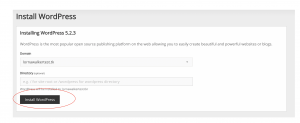 The next screen shows you that WordPress has been successfully installed. In this case it's running on staging area (essentially a 'practice' version of your site where you can make changes before putting them live) and on the domain that I have chosen. Click on your domain to be taken to the next stage of the process, as per the example below.

The next step of the installation process is to choose the language you'd like to operate in. In this case I have chosen English.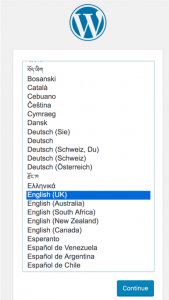 The final step of the process involves:-
Giving your site a title – you can change this later on so don't worry too much about it at this point
Set up a username – this is the name you will use to log into your website so it could be 'admin' or you could use your name or something else
Select a password – we'd recommend sticking with the complex password that WordPress gives you (or something like it) as that will help to make your site secure. Note, it's very important that you make a note of what your password is at this stage as you will immediately need it to get into your site
Give WordPress your email address so it can email confirmation to you that the site is set up
You can opt to discourage search engines from indexing the site while you are building it if you want to but it's important to remember to change this setting back once your site goes live, so generally we'd recommend leaving this as it is and not ticking it – you can hide your site behind an 'under construction' page while you build it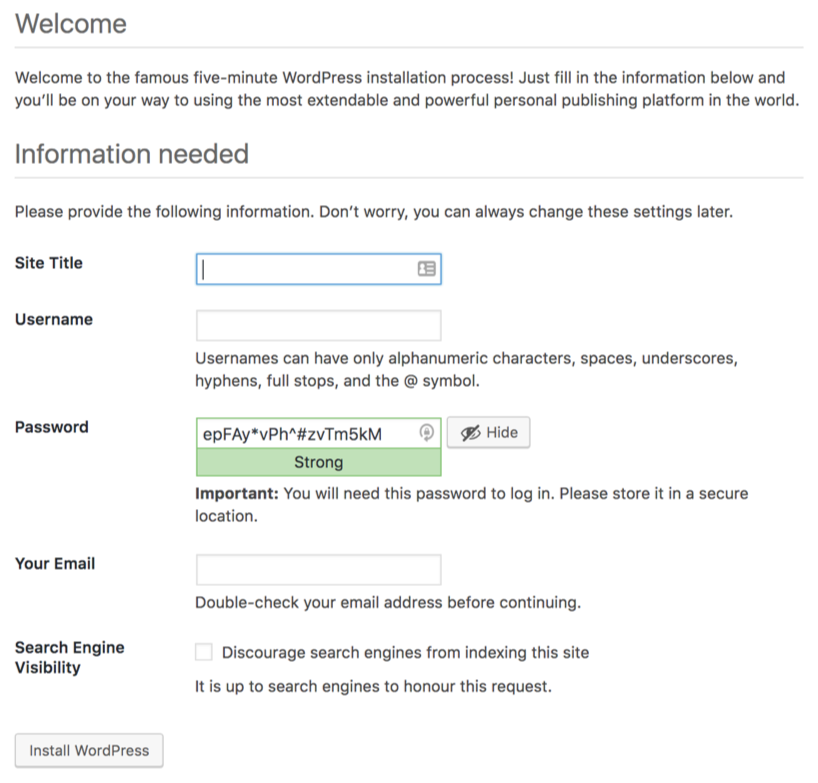 Once you've filled in the information on this page you can click 'Install WordPress' and that's it – the process is complete.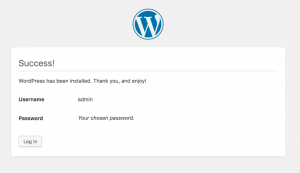 Clicking 'log in' will take you to the standard WordPress login page where you can log in using the username and password that you've just set up. The default login page is www.yourwebsite.com/wp-admin and this is where you should go whenever you want to log in in the future – there's no need to go back through your hosting company to access the site from this point forwards.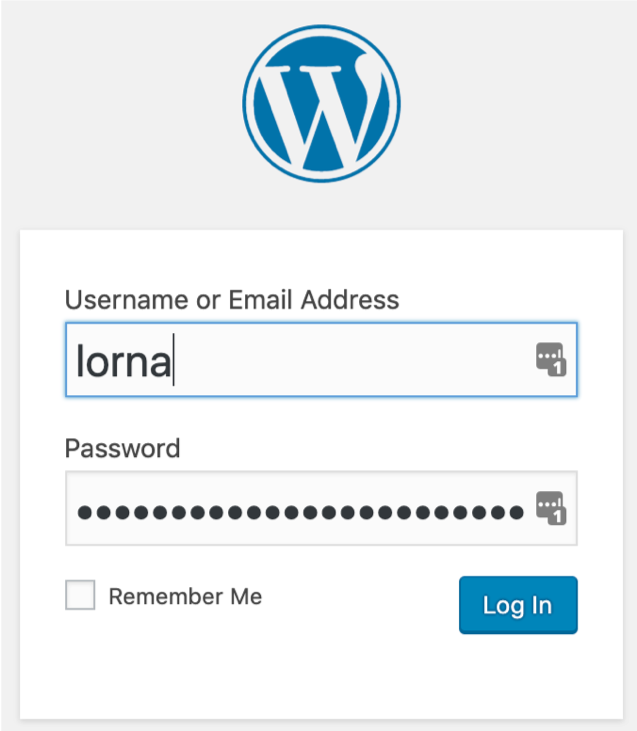 Activity
Install WordPress on your domain (if you're starting from scratch doing everything yourself) and log into the WordPress backend
OR
Log into the backend of your website using the log in details we've provided (if we've already installed WordPress for you)