Why is it important to know which version of WordPress you are running?
It is important to make sure that your WordPress site is up to date and running the latest version of the WordPress code. This is because older versions of WordPress are more likely to have security issues that can enable someone to hack into your site. Updates to WordPress often add new security features as well as new functionality so generally speaking you want to be running the latest version if at all possible otherwise you risk your site being hacked.
Before you update your site you should always make sure that you have a backup just in case you run into any problems. This is particularly important if your site has not been updated for a while. You can sometimes find that plugins you're running won't work with newer versions of WordPress or perhaps your theme is not compatible with it, so an update that spans several versions of WordPress is something to do carefully and perhaps with specialist help.
So, if you want to know what version you're running and how far away from the latest version of WordPress that is, how do you do it?
How was the site built?
A service like Built With provides a quick way of finding out what technology is running on your site. Enter the address of your site into the search box and Built With will come back with a report that should give you lots of useful information.
What version of WordPress is running on the site?
What theme was used to build the site?
Is Google Analytics running on the site?
Any other tracking or analytics tools such as a Facebook Pixel or LinkedIn Insight Tag?
Is there an ecommerce platform installed? Integration with payment providers?
Is the site linked to email services such as Mailchimp?
If you can't get this information in the Built With report then you can find it all yourself if you know where to look.
What version of WordPress are you running?
If you log into the dashboard of your website there are various different places that you may be able to see the WordPress version.
In the 'at a glance' box
Somewhere on your main WordPress dashboard you will have a box called 'At a glance' that gives you key information about the site including the WordPress version and the theme that you are running, as in the example below. Just log into the backend of the site and scroll through the dashboard area until you see 'At a glance'.

At the top of the dashboard
You may see a message at the top of your dashboard screen telling you what version of WordPress you're using if you're on the latest version (or suggesting that you should update to the latest version).

In the bottom right hand corner of the main dashboard admin screen
You may also see this information in the bottom right hand corner of your admin screen you may see the WordPress version.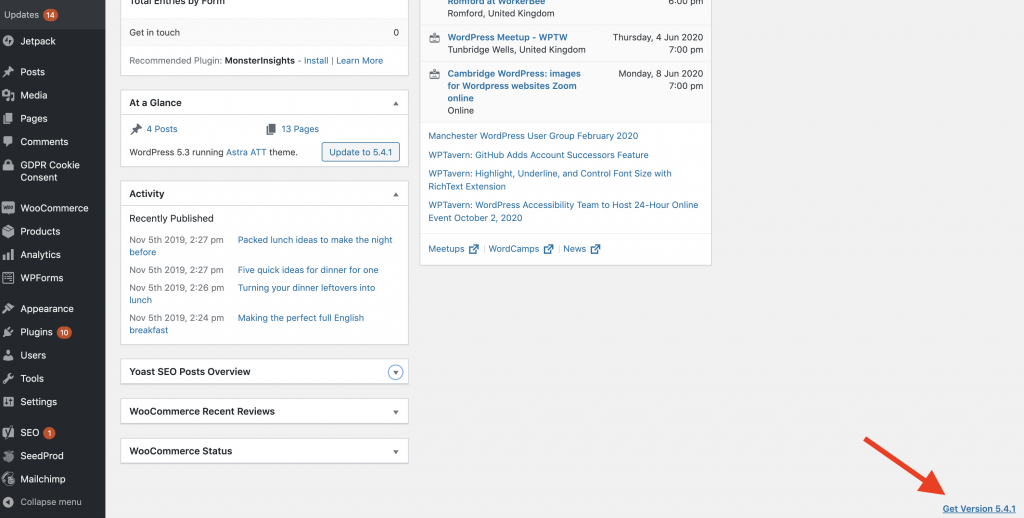 How we can help you
If you would like help updating to the latest version of WordPress then get in touch and we can chat to you about what's likely to be involved, depending on what version you're currently using. Often doing this update is a very quick job. If it does turn out to be more complicated for your particular site we can work with you to determine the best approach.