The chances are that you already know about LinkedIn and have a personal profile that you use to build a network of professional contacts, stay in touch with colleagues and clients from all stages of you career and perhaps when you are looking for a new job. Most people who use LinkedIn use it in this way. They use it to market themselves.
However, it's also possible to use LinkedIn extremely effectively as a tool to promote your business. Used well, LinkedIn can be an extremely powerful tool to generate leads for your business, grow your customer base and raise your organisation's profile within your target market. Certainly if you're operating in a business-to-business environment LinkedIn offers an easy way to build your business' brand and positioning and to solicit new leads and enquiries, however the fact is that relatively few people actually use it this way.
In this post I will outline how you can use LinkedIn to drive awareness of your business as well as yourself. I'm going to focus on the free options within LinkedIn – I'll discuss the paid advertising options in a future post.
Build both your personal and professional brand
Just as you need to ensure that your personal LinkedIn profile is professional and complete, so you should build a LinkedIn company page which does the same thing for your business. This page will be your business's 'shop window' on LinkedIn and will often show up alongside your website in Google search results so make sure this showcases your organisation in a professional and approachable light. We have a video guide elsewhere on this site showing you how to set up a LinkedIn page for your business.
Ensure the logo is up to date, that the contact details are correct and that all employees are linking their employment to the correct page. Clean up any duplicated entries. Write a really good summary of what your business does so it's easy for people to understand who you are and what you do. Make sure the profile is complete and without gaps to ensure you appear as an established and legitimate business.
Think about building a page that represents you and your business in the way that you would want an ideal client to view you. A LinkedIn company page is important even if your business is tiny – as a freelancer or solopreneur the company still needs an identity alongside your own.
Once you have the company page you need to keep it alive with regular posts in the same way as your Facebook page or Twitter account would post – your LinkedIn page also needs to have a stream of regular content and be building up its own followers.
Use your LinkedIn page to showcase your subject matter expertise
LinkedIn can be a great platform to enable you to demonstrate your (and your organisation's) expertise in your field. For B2B organisations in particular this is important. Customers are looking for organisations that they trust. To be trusted and viewed as an expert in your field you and your company need to demonstrate that you know what you're talking about and establish your authority on your subject matter. Sharing and creating content, resources and materials that your best prospects will find valuable is one way that you can do this.
Start by identifying the most pressing concerns amongst your target market then create content that offers solutions, advice and guidance for these concerns. If you understand what people care about, the questions they are asking and why they are struggling then you will be able assist them in a meaningful way to build trust and engagement.
The bulk of the content you share should be your own, with all roads leading back to you and your organisation but curating content from others is a great way to dilute the content generation load, to build relationships with other content creators in your field and to broaden the range of materials you post. Add some of your own commentary or opinions to add some value along the way.
Use your network to ask for introductions
If you have been using LinkedIn to build your professional network for a while then you will likely have a number of connections. If not then you should definitely start to build up your own connections by working through and connecting to colleagues, clients and professional contacts – work through your address book or black book and ensure your LinkedIn network correctly reflects the people you know and have worked with well.
If you have a network then make sure you use it! LinkedIn is great at helping you see how you are connected to people. If, for example, you are trying to get a meeting with the Head of Sustainability at a specific large sports venue and you don't already know them you can first use LinkedIn to find who that person is by name, read about them on their profile an send a connection request with an introductory message to them. This is new business prospecting 101.
You could also make use of your network of connections. For example, if you work in the sustainability industry and have worked with other large sports venues then it's probable that you will know a number of similar people and LinkedIn will tell you if you have connections who already know the person that you would like to make contact with. Should that be the case you can then ask someone in your existing network if they can introduce you to the Head of Sustainability at the sports venue in question.
You need to do this sensitively – this is asking a favour of someone and you need to be respectful, appreciative and not overstep the mark in terms of hassling them. Always give them an opt out and an easy way to say no, but you will often find if they genuinely know you and the person you are asking to be introduced to then you will get a nice warm introduction. Keep working through this process building up searches using LinkedIn's Advanced Search options to find new people you don't get know with the right job titles, at the right company or with the right profile to match your client profile. This is an effective new business lead generation strategy in action.
Always be building your LinkedIn network
Getting introduced to prospects is the ideal – a nice warm introduction from someone they already know recommending your good or services is the dream of course but it's often not possible. In these situations you will need to approach the contact directly, cold.
When you send a connection request to someone you only have 300 characters to create a message so you need to personalise that connection request. Don't just use one of LinkedIn's default messages – always tailor a message to each person you approach and come to the point quickly. Be direct and say why you want to connect with them. They will need to know very quickly who you are and why you might be useful to them.
Do a little research into them and their company. Have something you know is resonating in their space – like a white paper, a webinar, a piece of research or a case study. Something useful to them. Once you have a connection then do what you can to start a conversation. The ideal is to entice them in to your organisation to take the next steps so treat as you would any other warm prospect inviting them to events
Take the opportunity to connect to people as soon as you have met or spoken to them. If you meet someone at a conference then look them up and connect to them immediately. If you have a first call booked with someone then looking them up and connecting to them before the call is also a good idea. You should always be expanding and growing your network as well as spending time scouring THEIR networks for people you have in common and people you would like to get to meet.
Use LinkedIn groups
If you haven't come across groups in LinkedIn then this is really worth a look. You can use the search function to look for groups just as you would search for individuals.

If I run a search for sustainability and then click on 'sustainability in groups' LinkedIn will show me all the relevant groups.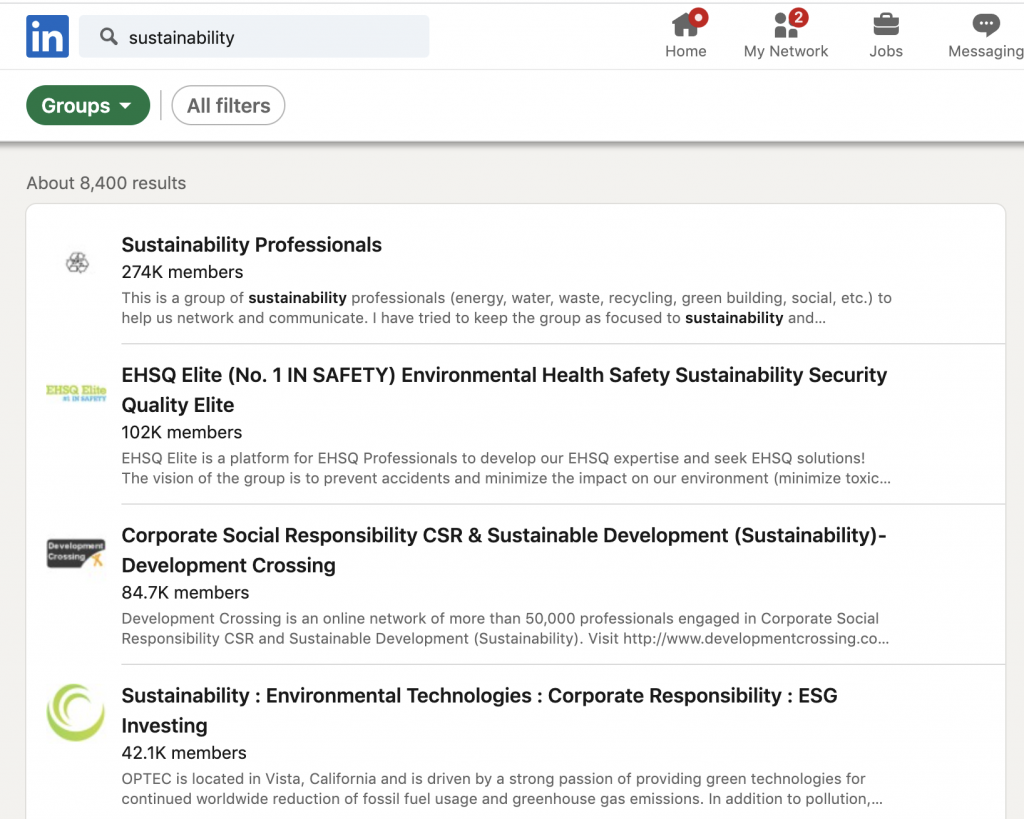 You join groups as an individual rather than as a company and there are untold numbers of groups. Whatever your niche, there's almost certainly a group for you. Some groups have a geographic focus whilst others are worldwide special interest groups. If you start searching and joining some groups you will quickly get a feel for those which could contain the members you are looking to connect with.
You can post your own content directly into most groups but you can also share a post from your company's page into a group. This second route is often the cleanest way and ultimately will drive clicks back through to the company page rather than to your personal profile. Think about what you want to happen here when you decide how to share content.
Don't spam groups – be respectful and relevant. Engage in the discussions and with other people's content rather than just posting your own stuff. If they are an active group then you will likely find some really interesting members and materials in there that may be of use to you, as well as building up potentially valuable relationships.
Use what's already on LinkedIn to your advantage
There is a LOT of content being published on LinkedIn – on your newsfeed from your connections and companies that you follow but also group content. Use this to build your industry expertise but also to spot new contacts who are active on the LinkedIn platform.
Read your news feed – Visit the LinkedIn news feed on your homepage to see the latest posts by your network. You can sort this to suit you – either by recency or popularity. Get into the habit of having a scroll through this a few times a week.
Follow interesting people – Follow thought leaders and influencers in your industry – high profile figures you can follow without being personally connected to.
Follow companies – Find and follow the leading companies, regulators and influencers in your industry as well as key clients, top prospective clients and of course competitors to get tip offs on what they are all doing.
Follow hashtags – Search for and follow hashtags most commonly used by your organisations as well as by individuals and companies your industry. Then your news stream will be event more tailored with topics most relevant to your business.
Use all of these things to develop your own content, inform your content creation and to find new prospective clients to start new conversations with.
These are just some of the free ways that you can make more use of LinkedIn as part of your organisation's marketing strategy. LinkedIn also offers paid advertising options as other social networks do and we'll explore those further in a future blog post.