We have written elsewhere about what Google My Business / Google Business Profile is and why every business that has any kind of local presence should have a Google Business Profile.
In summary, anyone can set up a free Google Business Profile for your business. It doesn't have to be you. In order to be able to edit and manage that profile you need to have Google Business Profile Manager account. This enables you to claim ownership of your business profile (if it already exists), manage that profile and unlocks some other additional features that will help you with your SEO.
The first step here then is to determine whether a business profile already exists for your business. If it does, then you need to go through the process of claiming it. If it doesn't, then you can go through the process of setting it up.
Before you start any of this you will need a gmail email address. This can be your personal gmail account, one you set up just for this purpose, or one the business already has – but make sure before you start that you have one you can use and that you can access it for verification steps. It's really easy to create a gmail account for free and access the account via a web browser. Instructions from Google on creating a new gmail account are here.
To start creating your profile go to google/business.com and follow the steps. Google will take you through a set up wizard which includes searching to see if your business already exists.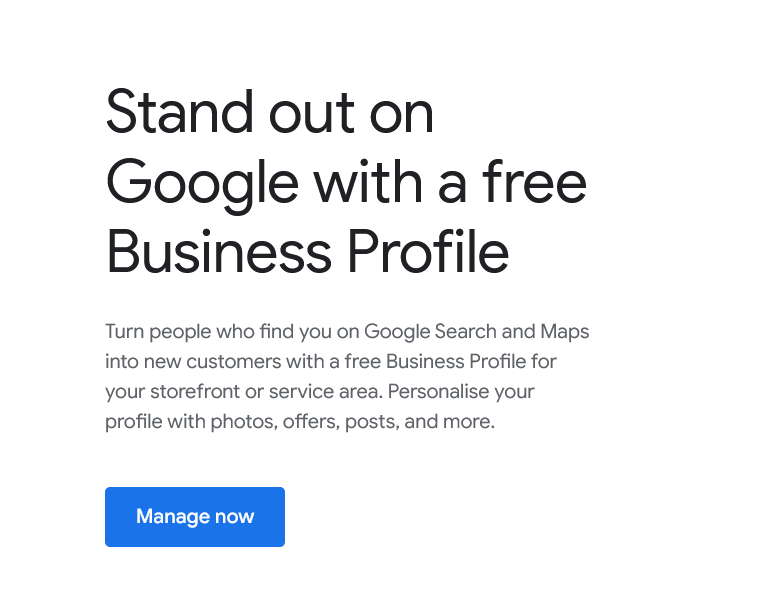 Click on the Manage Now button which takes you to a page to search to see if the business already has a profile. Type in the business name and if Google can find something with that name it will bring it up,  if it can't find it – use the Add your business to Google option below.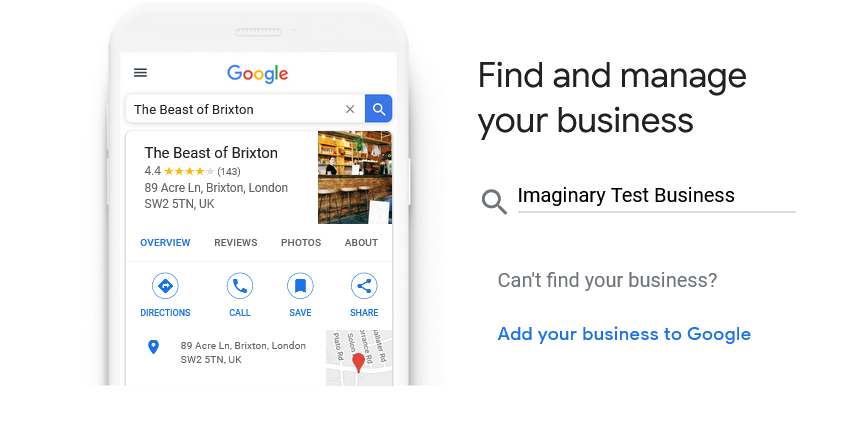 Then follow the wizard through to set up your business details. Firstly, the business name and category.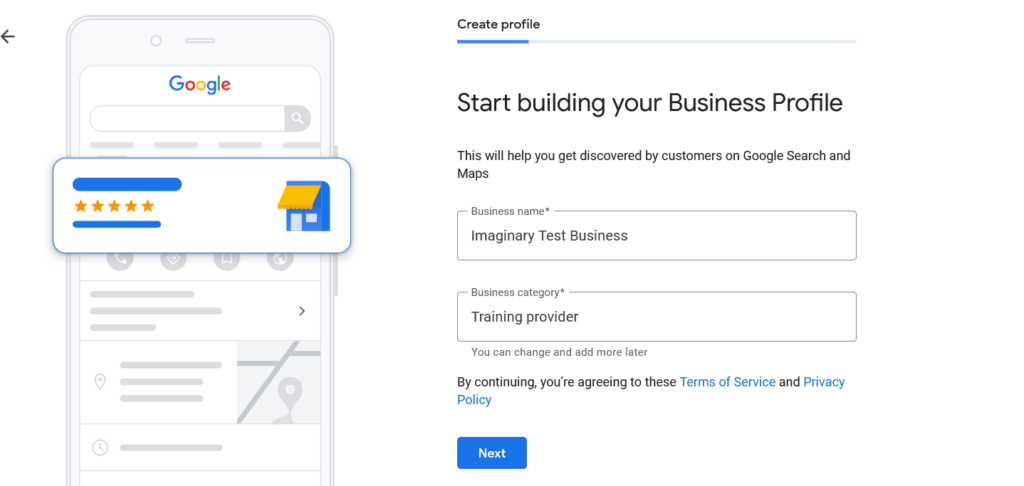 Then the location of your business.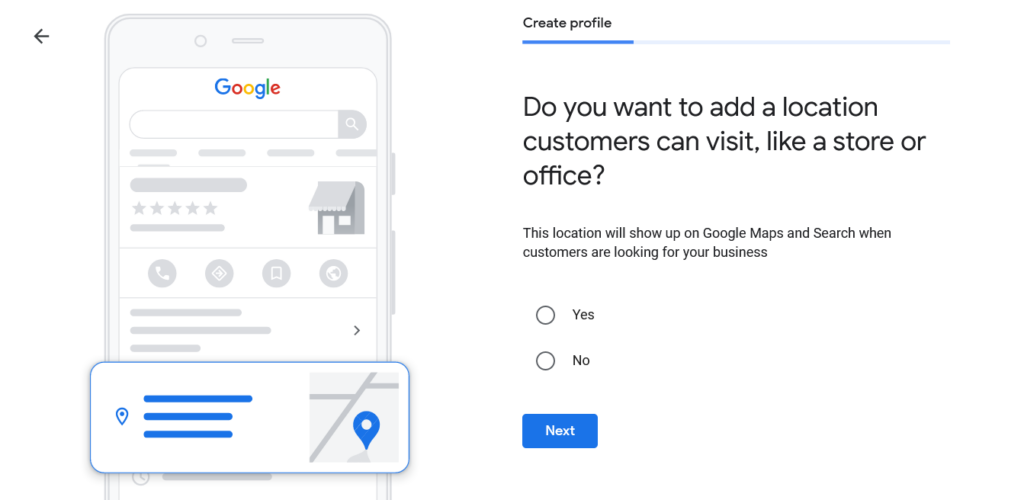 And then the physical address.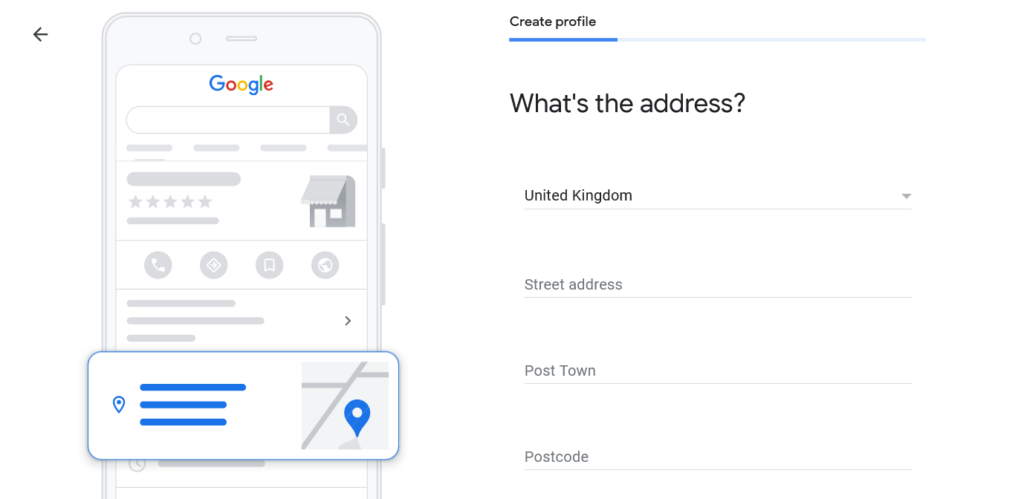 Google will try to look for existing profiles already using that address to stop duplicate profiles being created.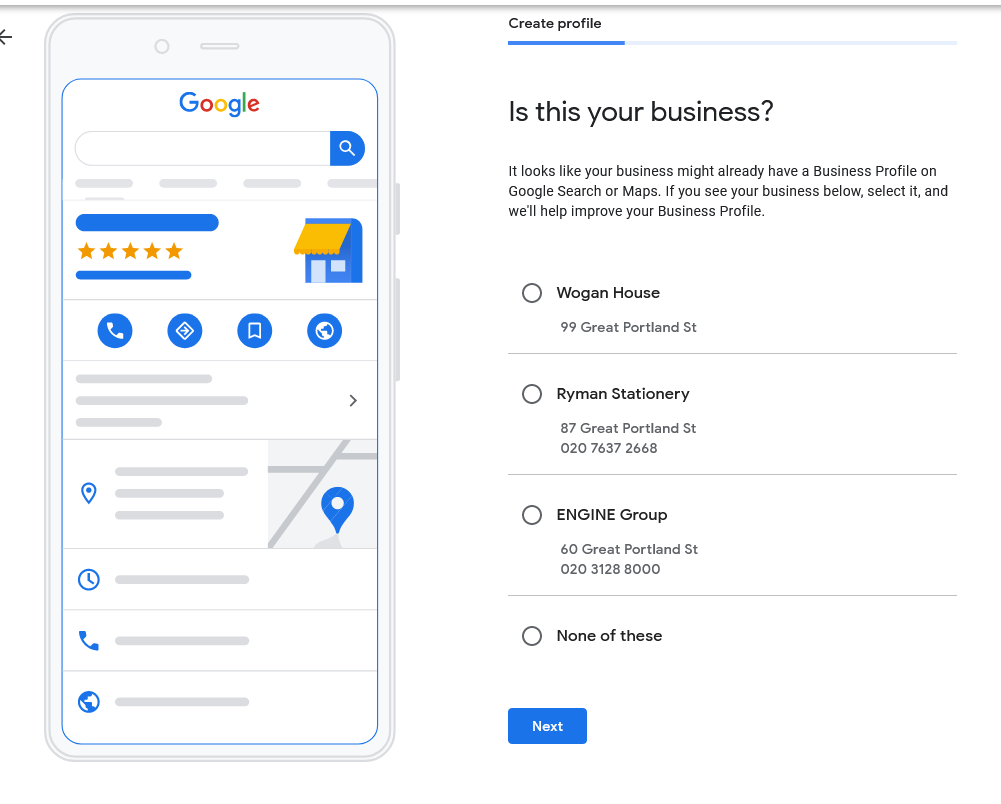 Then there are questions about your service.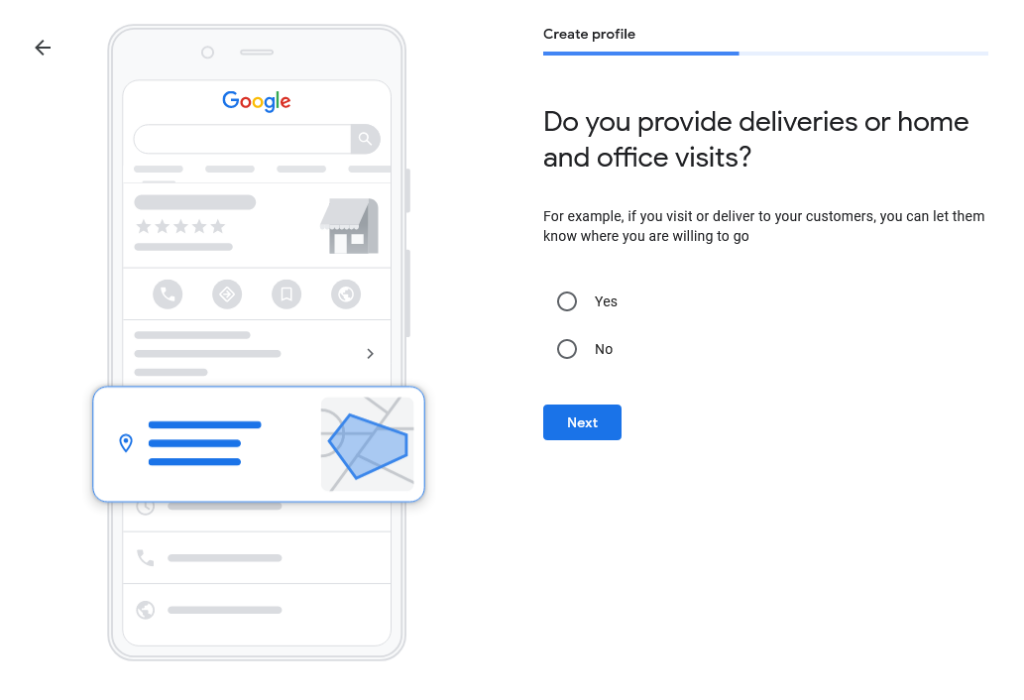 And the contact information you want displayed on your profile.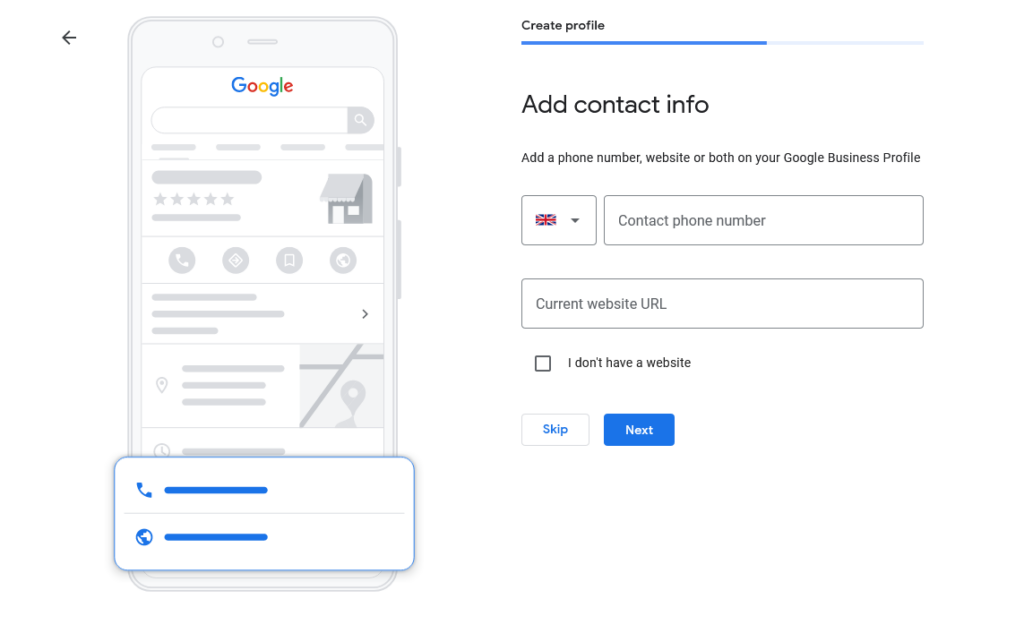 Following this Google needs to verify your identity using the information you have just set up in the profile so it will send a text or email as a 2 factor authentication step. You may also be asked to verify your physical address. This can be done either by a telephone call to the business's landline, or by sending a postcard to your office address with a code on it. Sometimes it's also possible to verify your account ownership through your Google Analytics or Google Search Console account. It just depends on what type of business you are and how much Google already knows about you.
One thing to be aware of it that if you are claiming a business profile that already exists or Google isn't sure of your location there is often a step where they send a physical postcard out to the business addresses you have given – this has a code on it and when received you go to the link given and enter the code. This is another 2 factor authentication step which helps to ensure only real businesses are being set up and that you really do have the right to set up a business profile on behalf of a particular organisation.
Once done, the wizard continues with adding your opening hours.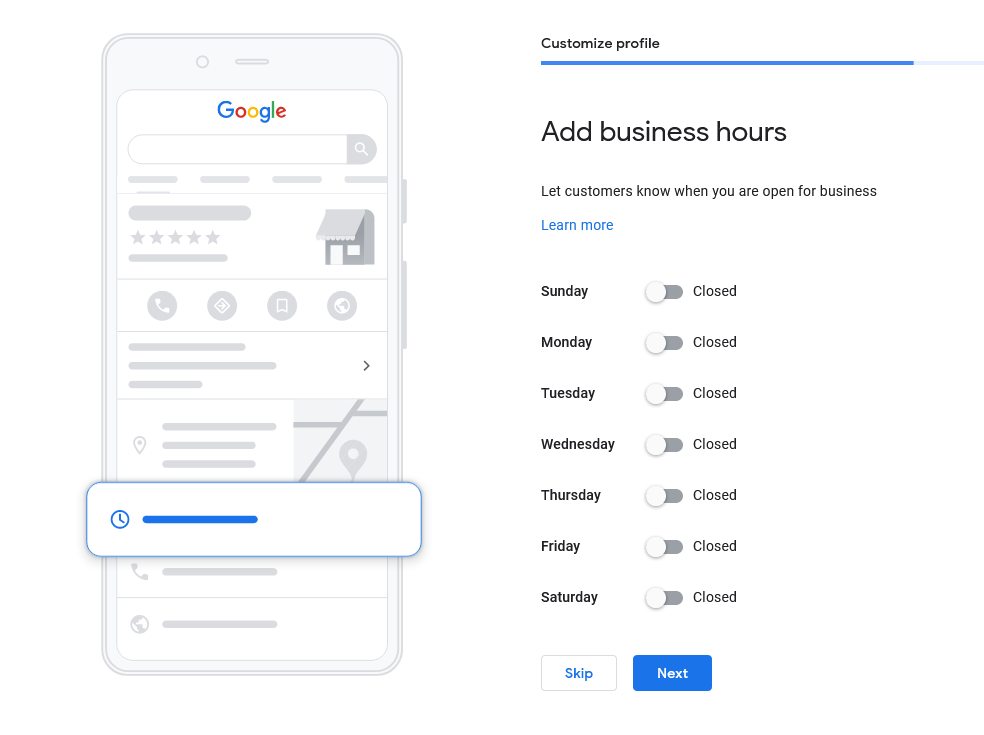 Then whether you will accept messaging.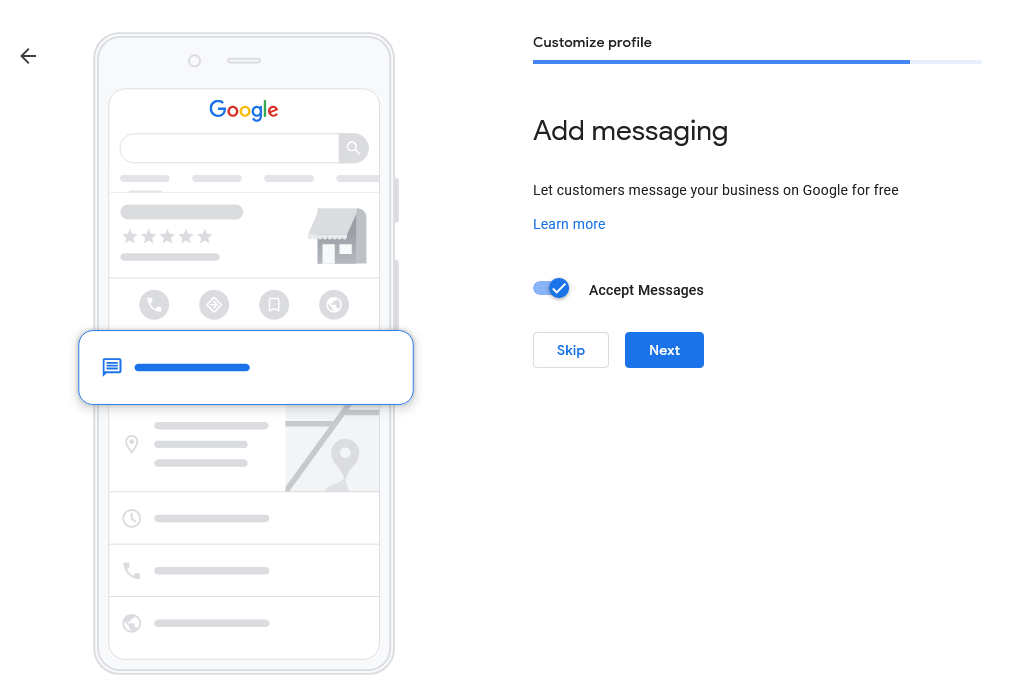 The next step is to write a profile for your business in 750 characters.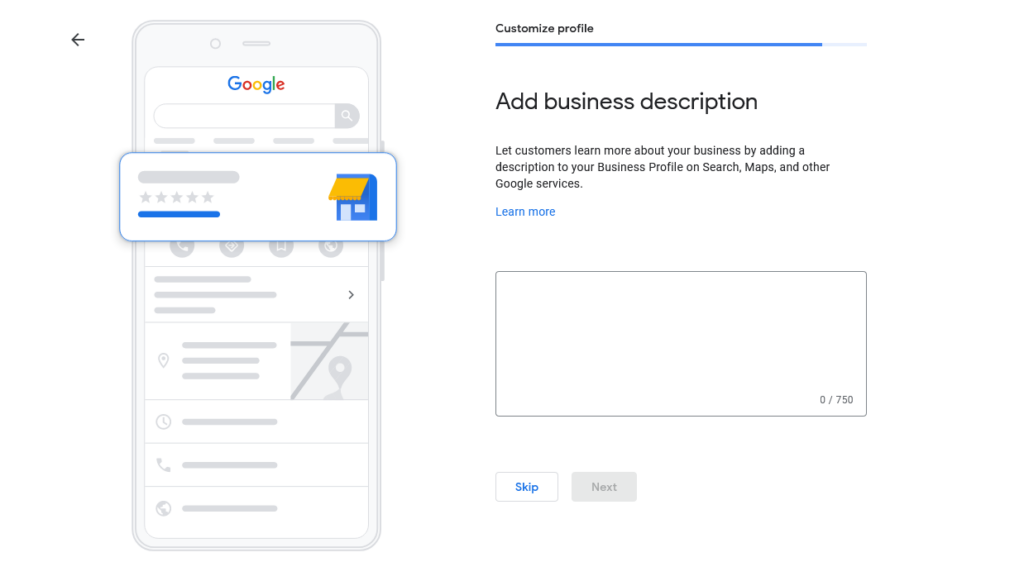 Then add any photos or images you would like to include. It is highly recommended to include photographs if you can, but it's important that these are good quality. Photographs help to bring your business to life for people and reassure potential customers that you're a proper operation. This could be photographs of your staff and your offices or other locations, it could also be photos of your products. If you're a restaurant consider adding photos of your dishes. The key thing here is that the photos are good quality.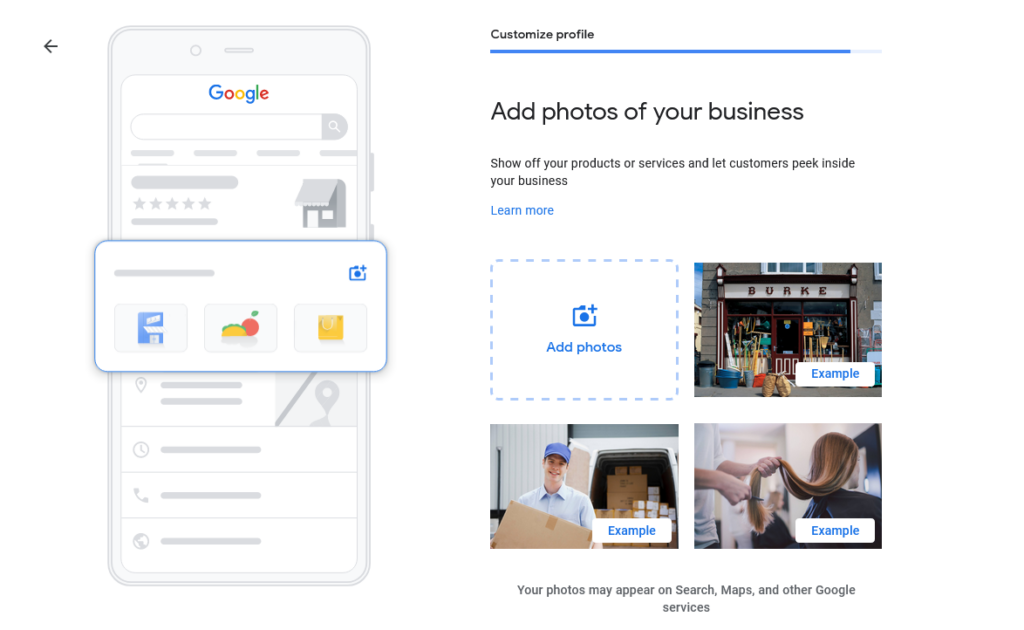 Sometimes at the next step Google offers you free credit for Google Advertising.  If you want to do any Google/ PPC advertising in the near future this can be a good idea. Sometimes this is up to £400 so worth having if advertising is going to be part of your marketing mix and certainly enough to give it a try.
The final steps direct you to the Google Profile Manager where you can change and review details of your business profile at any time.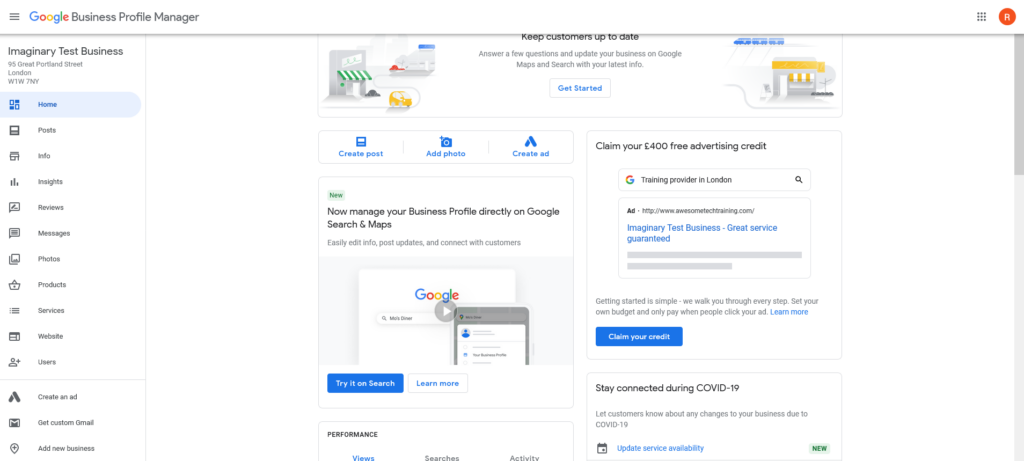 Accessing your account in the future
There are a few different ways that you can access your Google Business Profile Manager account in order to edit it in the future.
Log directly in
You can go to google.com/business and log in using your gmail address and password. You'll then see all the Google Business Profiles to which you have access in your account.
Go in via your Google account in Chrome
If you're logging into your Google account in Chrome you can access all the Google assets that are associated with your Google account. Log in to your Google account in the top right hand corner of Chrome using your gmail credentials. You can then navigate to the google assets associated with the account by clicking on the collection of dots next to your initial in the top right hand side of the screen.

The Google My Business icon looks like this

Via Google's search results
Run a Google search for your business using its full name. If you're using Chrome and you're logged in then Google will show you your business profile with a note underneath saying 'You manage this business profile' (as in the screen shot below) and a couple of links that you can click to go through and edit it. If you're a manager of several different pages it will do this for any of them if you search for the businesses by name.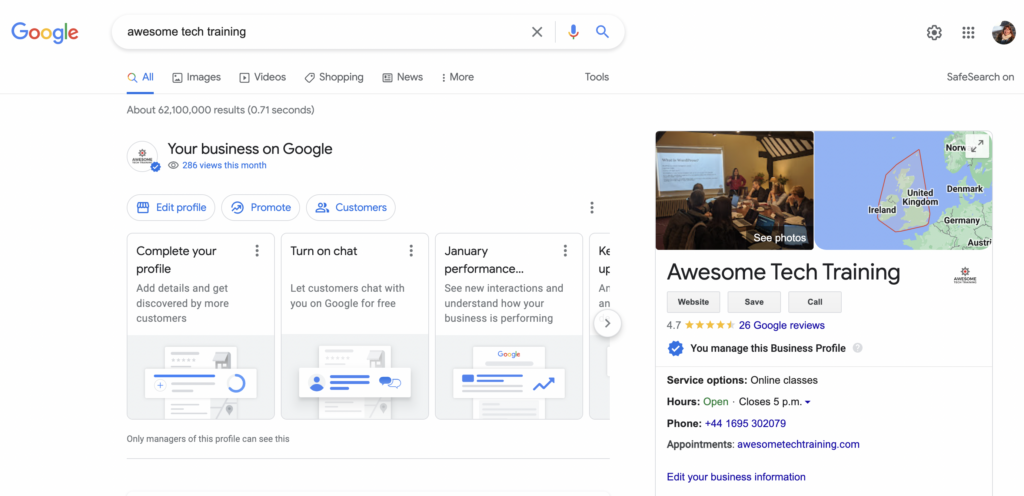 Editing your profile
Once you're in, you can really flesh out the profile, add more information and continue to build out the information and updates for your business.