Join us for this one hour training webinar and discover how you can use Google Analytics 4 to understand how well your website is performing. Learn the basics of Google Analytics 4 and discover its features and benefits for your business. Whether you're completely new to Google Analytics or you're struggling with the move to GA4, we've got you covered. Perfect for beginners, this one hour webinar guides you through the fundamentals of Google Analytics, with a focus on the elements of GA4 that are most useful for small businesses.
What you will learn during this Google Analytics tutorial
How to install Google Analytics on your website
The key differences between Universal Analytics and Google Analytics 4
How to structure your Google Analytics 4 account and properties correctly
Get familiar with Google Analytics 4's user interface and learn how to navigate through its features easily
Understand how GA4 helps you to track users' behaviour and measure the effectiveness of your marketing campaigns
An overview of the key metrics in GA4

Where are your site visitors coming from?
Which of your marketing activities generates the most traffic to your website?
How engaged are visitors to your site?
What devices are they using to access your site?
Which pages are they visiting and how long are they spending on them?
Understanding events and conversions in GA4
Tracking how well your website converts visitors into customers

Questions / discussion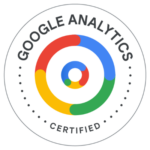 Who should attend?
This webinar is suitable for anyone wants to learn more about how to understand and improve the performance of their website as a marketing tool. It will be useful either to people who have never used Google Analytics before, or those who have been using Google Universal Analytics and would like to understand how to transition to Google Analytics 4.
What do I get once I've booked onto this webinar?
Once you've booked your place we'll send you a personalised link to the webinar enabling you to access it live. The webinar will run for a full hour with additional time for questions at the end of the hour. Everyone who has registered onto the webinar will get a recording of the session including all the content and the Q&A as well as a downloadable copy of the slides. We update the recording each time we run the webinar so you'll always have access to the most up to date version.